The last stop on the Smooth Jazz Cruise I went on was Ensenada, Mexico. My sister and I started not to go because we'd been there before but she wanted to shop and I wanted to take pictures. Listening to the tour guide we both decided that La Bufadora, The Blowhole, would give us both what we were looking for. Man, I'm glad I went because I'd forgotten how beautiful is was driving up to the Blowhole and how beautiful the area around the Blowhole was. There are pictures of that area in the post before this one.
If you'll notice the flag in the picture above, the Mexican flag can be seen from anywhere in Ensenada. The tour guide pointed out that if we happened to get lost to just look for the flag which is at the port where our ship was docked.
This is a composite video clip I took from the bus as we travelled to La Bufadora. I actually find it rather interesting that here in America most of our coast is taken up by rich homes. Notice in the clip how little there is blocking this view of the coast and that part of it is upscale. Don't quote me on this though because this is the only part of Ensenada I saw.
Part of the attraction at La Bufadora, The Blowhole, is the shopping that lines the street as you walk from where the bus leaves you to The Blowhole. It's supposed to be at least 30% less than the downtown shopping because of the rent. I've got to say it's a little overwhelming especially if, like for us, you're the first tour bus and the vendors are all standing along the street waiting for customers. You're the fresh meat for the day and all the way down the street they are ALL trying to get your attention and giving you discount coupons. I think my favorite term that day was when one of them called me and my sisters "Chocolate Chicas". LOL!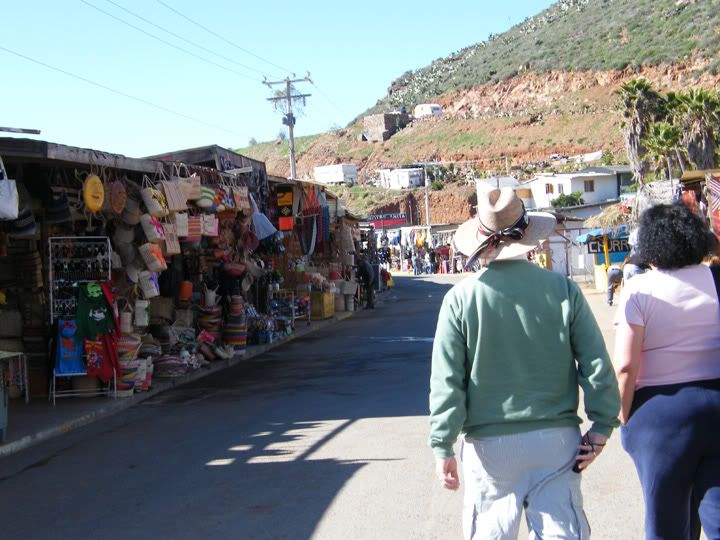 I personally appreciated that the tour guides warn you about those who are out to rip off tourists and proceed to tell you how to tell real silver from fake and what not to pay for certain designer knock-offs. Let's see, my sister and I picked up a couple of purses, some sunglass, a very nice tile domino set for my nephew, a beautiful cross on a sterling silver chain, a nice cotton jogging set with a beautiful design with Ensenada on it. I'm not much of a shopper but I did have some fun. I wish I'd had more money to spend because there were several ceramic vases and plates that I would have loved to haul back home.